Thanks for all your lovely comments about Abbie yesterday! I'm pleased to report that she's doing a lot better today after some antibiotics and cortisone. Still a long way to go, but we're getting there and she no longer sounds as much like she has a bad case of emphysema!
Thank goodness for that.
Anyway today you can find me over at Charlotte's blog featured in her Sunday Sewing Spaces feature…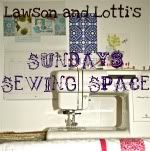 Happy weekend!
I'm off to watch pizza dough rise. It's a bit like watching paint dry only more nerve wracking because you never know whether it's going to work or not…