We interrupt the 'normal' Favourite Things Friday post this week to announce that I have been featured over at Quilt Story today by the lovely Heather & Megan. Bless them. They have featured my Cheeky Quilt.
So pop on over and read all about the cheeky quilt again in all it's fabulousness. Or read it there if you missed it the first time…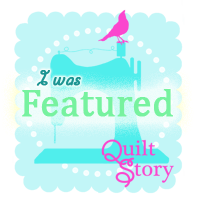 There is also another reason for no FTF this week… I'm in far too much of a grump!
Littlest Flutter fingers have "borrowed" my SD card with all my photos on. And of course it was just due to be backed up wasn't it. GRRRRRRRRRRR!!!!!!!!!!
Can't find the jolly thing anywhere and it's so small that we may as well be looking for a needle in a haystack!
I should have known better than to leave it on the arm of the couch, even if I was sitting right next to it. But still… SO annoyed right now.
I've said it before and I'll say it again – lucky she is cute!
So instead of rambling on about how annoyed I am (oh wait I just did… ok) as WELL as rambling on about how annoyed I am right now, I will let you know something a bit more positive as well.
Have a lovely weekend!!